We hope you will consider making a donation.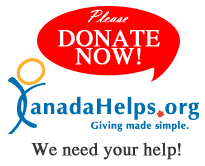 Shuswap Association for Community Living depends on the generosity of our community. You can donate safely and securely online by clicking the Donate Now button at right, or you can mail your donation to this address:
Shuswap Association for Community Living
PO Box 153
Salmon Arm, BC
V1E 4N3
OR

You can choose to 'Round up and Donate"
We're happy to announce that Shuswap Association for Community Living is now a partner of ChangeIt; a new way to donate while making everyday purchases using your existing BMO or RBC Credit Card. ChangeIt lets you automatically round up your purchases and donate the difference to us!
With ChangeIt you can track your donations online, control your rounding preferences and even set a monthly maximum. At the start of each month, a donation notification will be delivered straight to your inbox from ChangeIt to let you know how much you donated in the previous cycle. You'll also receive an annual Official Donation Receipt for Income Tax Purposes from us for your donation.
It's the easiest way to give, and getting started is simple.
Sign up your BMO or RBC Credit Card by clicking on the button below
Select Shuswap Association for Community Living and set your rounding limits
Use your BMO or RBC Credit Card and start making a difference
* For a complete list of participating financial institutions, visit ChangeIt.com/partners